Projects 04-48
West Palm Beach VAMC ER-Heli-Port
West Palm Beach, FL

Owner
West Palm Beach VAMC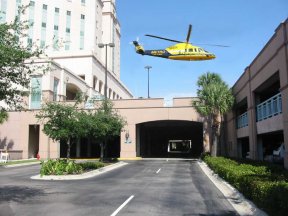 Prime Design Consultant services for design of an elevated heli-stop near the existing Emergency Room of the medical center.
Building engineering services include review of existing construction plans, specifications, and reports; on-site verification of existing conditions; structural analysis of existing structural systems; review of regulatory codes; preparation of design criteria and loads; preparation of calculations, construction plans, specifications, construction cost estimates; and, bid and construction phase services that include shop drawing review and construction phase site visits.
Rendered photo (shown above) with helicopter captures how the design will appear when construction is completed.
Estimated Construction Cost: $500,000.00
To read more about this project see our published projects page here.