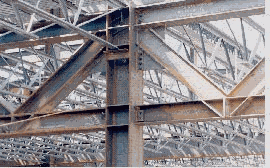 CORPORATE SUMMARY
QproQ Engineering, Inc. is a civil/structural engineering firm located in Wilkes-Barre, Pennsylvania. Since its inception, the Firm's primary focus has been in the civil/structural engineering discipline as related to building structures. While recognizing the importance of commercial projects, federal, state and local municipal projects are targeted by the Firm as integral to the Firm's growth. To date, QproQ Engineering, Inc. has been successful in securing and completing projects in all of the above markets.
Key to the Firm's success with established Clientele is the professionalism and technical expertise of key staff engineers. All phases of a project, from proposal preparation to construction phase services, are completed by one of the Firm's engineers. Clients are assured that their needs are understood and implemented into the project documents by the project engineer. All projects are evaluated, designed and thoroughly reviewed under the guidance of the Firm's principal, James A. Kerns, P.E.
During the design phase, production efficiency is achieved through the utilization of computer technology for analytical and graphics tasks. Analytical programs are utilized to evaluate structural options; however, experience and manual calculations are relied upon to verify computer generated output. It is understood that the engineer's personal experience and learned analytical skills are key in evaluating any structure.
AutoCAD is the in-house graphics software used to produce engineering plans. Staff engineers utilize AutoCAD software to design and draft simultaneously. A library of over 200 structural details is accessible on the Firm's network database for incorporation onto engineering plans. All of the details have been produced by staff engineers and tested on constructed projects.
Finally, an extensive technical library composed of Internet access sites; current building codes; industry codes and design manuals; ASTM Standards; structural engineering design books and guides; Sweet's reference manuals; and vendor catalogs are available in the office for ready reference. The Firm subscribes to engineering periodicals and provides continuing education opportunities for engineers as often as possible. Active membership in professional societies is encouraged to promote professional growth.